The Block Connection
Sharing the Legacy of Caroline Pratt
Part 2
City and Country School teachers share their impressions of the Block Connection project: Nicolás Dumit Estévez worked with Prekindergarten, Nina Farrell with Kindergarten, Erin Teesdale with First Grade, and Ruth Conroy with Second Grade. All four C&C teachers described how readily PS130 students took to working with blocks, and how open the public school teachers were to being mentored by City and Country teachers.
"Collaborating with the teachers at P.S.130 was a rich and eye opening experience.  I worked with 2nd grade students, who, most likely, had very little experience building with wooden unit blocks–formally.  As I observed the children start to build it became very apparent to me that all children, whether they have been building with blocks in the classroom since they are two-years-of age (i.e. City and Country School) or just beginning at 7 or 8 years-of age; all children are inherently wired, so to speak, to construct.  Their play (with blocks and other materials) is their work–it's how they make sense of the larger world around them." Ruth Conroy, City and Country School 2nd Grade teacher.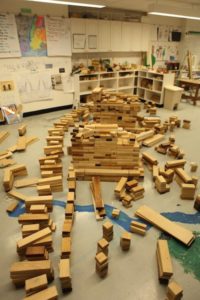 "It was clear from the start that PS130 teachers, administrators, parents and students were committed to starting this work at their own school. It was wonderful to see the excitement and experimenting happening with the first graders (a lot of what I'm sure younger Groups do at C&C). There was a wonderful energy in the room when the children worked with blocks and the students and teachers were very open to some of my ideas about adding details (paper, fabric, cardboard and possibly model magic) to their work. The first grade team at 130 reached out to me this fall to find out more about how we incorporate "block money" and teacher "block inspections." With first graders the addition of block money is great way to integrate math and make their block work realistic. Block inspections help keep children thinking about appropriate, realistic details to add to their buildings (open and closed signs, hours of operation, etc.)." Erin Teesdale, City and Country School 1st Grade teacher.
 "I loved working with PS 130. It was quite inspiring. The demands put on public school teachers and their students are quite different from the demands we have on us at City & Country. Reading groups, structured math curriculum and assessment seem to be present for even the youngest students in Pre-K. The teachers at PS 130 are completely committed to giving their students the best opportunities for learning and growth, and they truly believe in the value of a Blocks program and play-based learning. And even though the addition of the Block room adds to an already busy schedule, they fought for it and share the space among many classes so that the children have hands-on experience with the blocks. Having taught at C&C for 12 years, where our 4s and 5s programs are completely based on building with blocks and learning through play, it was inspiring to see how a community of parents, teachers and administrators came together to provide the same thing for children in a public school, where such programs are not city-mandated." Nina Farrell, City and Country School Kindergarten teacher.
Nicolás Dumit Estévez shares his impressions and thoughts about the Block Connection in the following blog post.
Image from the City and Country School website