Connecting with Blocks in the Age of IM
At a time when the digital screen claims hegemony as the platform for fostering social interactions, it is important to halt the next click of one's fingertip on that iPhone (or whichever digital device you are drawn to) to pay attention to the role of unit blocks in bringing people together and hence, in kindling community. And yes, while one could argue for the effectiveness of burgeoning technologies capable of linking individuals residing at two opposite ends of our Earth versus the more local scope that unit blocks can activate in terms of drawing them together, there is a quality in the face-to-face interactions demanded by working with a physically tangible and open ended material that cannot be easily replicated otherwise. I propose that the centerpiece of the historic City and Country School's (C&C) curriculum for its lower school, the good old wooden unit block, as envisioned and brought to fruition by radical educator Caroline Pratt more than one hundred years ago, continues to hold the power to push one to rethink social connections at a time when social media predominate.
As part of the Block Connection workshops that C&C organizes, which invite educators citywide to integrate block building into their curricula, I traveled in 2016 to meet Ms. Cassie's and Ms. Koren's classes at P.S. 130 in Kensington, Brooklyn. My trip to their school entailed serving as a mentor to these two early childhood teachers, and in offering feedback on the work with unit blocks that they have been doing after training at C&C.  Prior to our meeting, Ms. Cassie, Ms. Koren and I connected through e-mail, and I surfed the Internet for subway directions to their school. Kensington was not an area of the city I was familiar with. Upon arriving in this neighborhood, I purposely decided to mix the results of my online search, which I had jotted down on a scrap of paper, with the oral directions that I received from several people on the streets.  Once inside P.S. 130, I was able to experience the rich cultural diversity that makes up the Kensington section of Brooklyn, as well as to observe how the use of unit blocks was evolving and finding its own voice and character in the classroom of a pre-kindergarten at a New York City public school.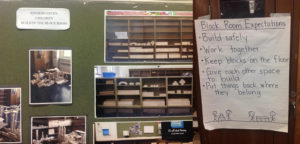 A careful look at what was taking place in Ms. Cassie's and Ms. Koren's classrooms revealed a great deal about the surrounding neighborhood and how it informed the day-to-day at P.S.130. Children were in the process of becoming familiar with the materials, and therefore were curious about what they could do with them. I spotted a variety of both finished and in-progress structures that, in the children's words, served as hospitals, jails, and homes. I was intrigued by a piece that was intended to prevent people from getting ill, and which was made out of a "bricky" wrapped in a bundle of yarn. Some of the buildings were surrounded by the quintessential mode of public transportation in our city: trains. Others stood somewhat apart from the rush and buzz of our metropolis as solid sculptural forms. In the midst of this urban landscape, I tried as best as I could to make my presence as invisible as possible to the young builders in the classrooms of P.S. 130, but this did not always work! The children I encountered were interested in striking up a conversation and knowing more about their visitor. I am sure that Caroline Pratt would have been excited to see the social connections between boroughs—neighborhoods—schools—children—and—teachers that her blocks were still triggering.

Nicolás Dumit Estévez works as an educator/artist and curator.  His creative endeavors give prominence to the role of play and its capacity to help one rehearse, rethink and reinvent one's day-to-day. Estévez's first connection to City and Country School dates back to 1995, when he assistant-taught the IVs with head teacher Jane Clarke, now Director of the Lower School at C&C. He served as an art consultant for La Península Head Start in the Bronx (2000-2010), and he has been a visiting artist and/or instructor at numerous colleges and universities both in the US and abroad.  In 2017 he will be a Visiting Critic at Columbia University's MFA program. Estévez holds an MFA from Tyler School of Art, Temple University, and an MA from Union Theological Seminary.
All images provided © 2016 Nicolás Dumit Estévez