The Port Washington Youth Council Teen Center (called the "PiT") was founded with the goal of improving the quality of life for young people in grades 6 – 12 who reside in Port Washington. Regular activities include martial arts, basketball, indoor skateboarding, open lounge, dodge ball, girls' night and kickboxing.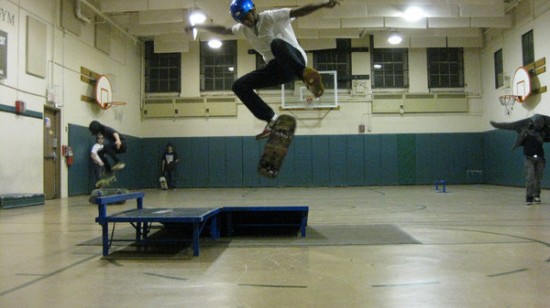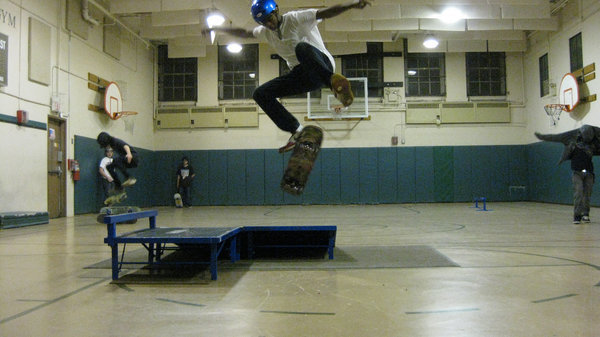 Kids from Port Washington skateboard in the gym. Credit James Phair
According to a review of the PiT in Port Washington's Patch online news site:
The Port Washington Youth Council was founded in 1980 in response to a near fatal car accident involving alcohol. The most visible project of the Youth Council has been the Port Washington Teen Center, which is housed in the Landmark on Main Street building. This year, the Teen Center has had a rebirth with a name change and a program overhaul.

"The after-school program had always been poorly attended," said Julie Harnick, president of the Port Washington Youth Council Board of Directors. "More kids were coming to the Teen Center when we were offering specific programs and instructors that they liked and couldn't find elsewhere."

When the Teen Center reopened this past September, it was with a new name – the PiT – and a new, program-driven agenda. Where the former Teen Center had largely been an open house situation where teens could show up after school and have a place to "hang out," the PiT now provides specific programs.
 The PiT also now has a page on Facebook, where teens can see scheduled activities and interact with each other.