Kim Carter, the executive director of All Kinds of Minds wrote a release announcing that their organization was going to merge its assets and intellectual property with the Q.E.D. Foundation.
All Kinds of Minds' New Home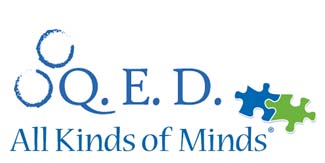 It is my great pleasure to formally introduce Q.E.D. Foundation and tell you how thrilled and honored we are to have the opportunity to carry the critical work of All Kinds of Minds forward.The All Kinds of Minds Board of Trustees selected QED to be the home for All Kinds of Mind's assets and intellectual property because "they (QED) share not only our (AKOM Trustees') philosophy about learning, but they have demonstrated a deep understanding of the science of learning and how it fits more broadly into transforming education."
All Kinds of Minds has demonstrated it is possible to equip educators with the knowledge and tools to use the neurodevelopmental framework to assure that all students are successful. When they selected us, they wanted to see this work spread as broadly as possible and with limited cost to teachers and schools. QED is prepared to assure that this happens.
QED's mission is to build, inspire, cultivate and sustain cultures for transformative learning where:
We are all learners with aspirations and passions that deserve to be supported in every way possible.
Learning changes lives by helping us develop the will, knowledge, skill, and capacity to achieve our aspirations.
Learning needs to happen in different ways, so we use various strengths and resources to engage with the world around us.
Learning empowers us to co-create our public world and to shape the decisions that impact our lives.
We do this by working with educators, families, and communities to ensure every learner's success. Our experience in re-engaging disenfranchised learners includes extensive use of AKOM's neurodevelopmental framework.
Our plans for developing and spreading AKOM work include:
Engage thought leaders in reviewing and updating the AKOM neurodevelopmental framework.
Engage and grow the network of professional development providers and trainers who are committed to the AKOM approach and student-centered learning.
Nurture and expand the All Kinds of Minds Schools of Distinction as proof points for this work and assure that this knowledge-base is deeply embedded in QED's charter school demonstration sites.
Develop a technology platform that will 1) provide a centralized, accessible portal to all of QED's resources, including the Learner Sketch Tool, the Learner Profile, Attuning a Student, and all of AKOM's other knowledge, training and tools, and 2) support the expansion of the knowledge base about the science of learning. This will be the open access platform for the All Kinds of Minds programs and resources.
Build demand for transforming education around the vision that every student can be a successful learner.
Of course, we cannot do this alone. Your work over the years has been vital to the growth of AKOM and we aim to build on that collaboration as we move forward. Toward this end we are eager to hear your ideas for the future of AKOM. What would you like to see developed, revised, or created to better serve students, educators, and communities? How would you like to be involved in this work? Please share your thoughts, ideas and any concerns you have with our Director of Learning Platforms, Jason Flom.
We very much look forward to working with you as we embark on this next stage.
Warm Regards,
Kim Carter
Executive Director